Today was the 5th day, and we were staying in Hilo. It was time for us to go snorkeling somewhere real, not just on a regular beach. To this end, we called Body Glove Cruises early in the morning and booked 4 seats. The ship docks directly next to our hotel, saving us from a walk. Once we arrived at the ship, the crews enthusiasm was infectious. They really loved what they were doing!
We boated out for about an hour to a little area on the side of the coast. After a brief explanation of how to snorkel, it was time for use to get out. It was awesome, since I saw lots of fish and other wildlife. Within 30 minutes, however, it was lunchtime. Burgers and veggie burgers. The veggie burgers were amazingly good, especially after snorkeling.
After eating, I decided to jump off the top deck of the ship, where a little platform and a waterslide existed. It was my first time in memory ever doing anything like this, and it was awesome. I jumped off lots of times. After jumping, I went back to snorkeling.
Soon, however, it was time to turn back. We got back on the ship for the boat ride back. After returning to shore, we returned to our hotel. My dad and sister both decided to go on a submarine ride, so off they went. My mother and I packed up our bags and moved everything to the car for our imminent move to the Hilton Waikoloa Resort, about 30 minutes up the highway and out of town.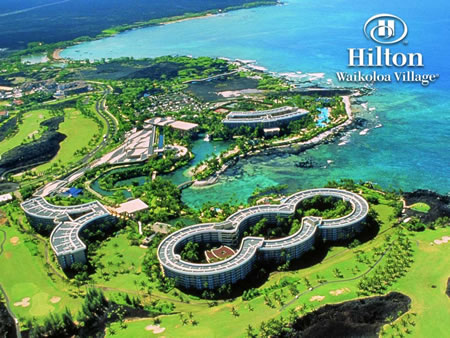 After the 2 explorers returned from the submarine, we shifted over to Waikoloa Resort. This was one of the most luxurious places I had ever stayed at. To get to our hotel room, we had the option of taking a boat, riding a tram, or walking the .8 miles through a museum gallery walk. The hotel was made of 4 buildings but had 7 or 8 pools, including 2 for kids with water slides. In addition, it had a lot of beachfront property and quite a few restaurants and boutiques.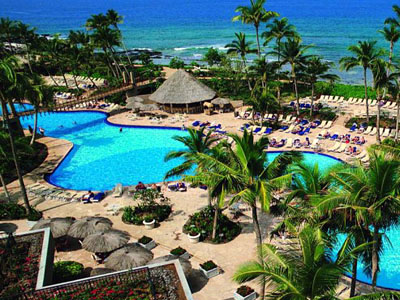 However, at this point, it was closing in on late evening. We needed to eat, and so went to a pizza/Italian place. One of the coolest items in the restaurant was their Macadamia nut sauce, a Hawaiian only specialty.